High-Quality Gutter Installation, Repair & More
Making the decision to invest in rain gutters and downspouts for your home will provide important protection for your roof, siding and foundation. Elevate Exteriors & Remodeling Inc. can help you get the best gutter installation for your home. We offer two of the most popular gutter types so we can install a gutter system that looks great on your house and works great too. We also repair damaged gutters instead of replacing them, when possible. Get in touch with us today for a free in-home estimate!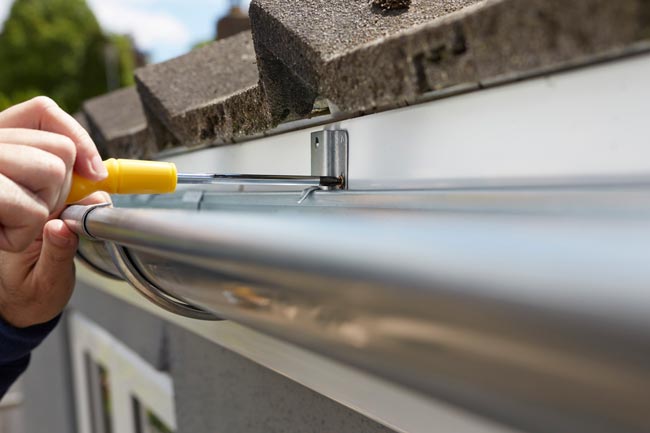 Types of Gutters
Seamless Aluminum Gutters
Seamless gutters, typically made from aluminum, are preferred for their "no gaps" design. The gutters are custom-manufactured to fit your house, so instead of having several sections attached at seams, each gutter section extends the entire length of the structure. The only seams are at the corners. This enhanced gutter installation process helps prevent leaks.
Copper Gutters
Known for being exceptionally durable and aesthetically pleasing, copper gutters may be a great option to match the style of your home. Over time, copper gutters develop a gorgeous green patina.
Top-Quality Gutter Covers
Stay off the ladder and ensure your gutters are always free of debris by adding gutter covers to your gutter system. We install high-quality gutter covers, also known as gutter guards or gutter protection systems. These covers let rainwater into your gutters while keeping out leaves, twigs and other debris that clogs uncovered gutters. With our gutter covers, rainwater can always flow freely away from your home and your investment will be reliably protected.
Schedule a Free In-Home Estimate Today!
Ready to get started on new gutter installation or gutter repair? Elevate Exteriors is here to answer any questions and serve as your local gutter experts. Contact us today! Submit the convenient contact form or call us at (612) 298-9812. We'll be glad to help you get the gutter system and/or gutter covers you need.